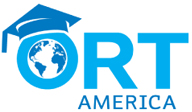 ORT America-Ohio Region
The Ohio Region of ORT America is rooted in Jewish heritage and values. Our mission is to raise funds to support educational programs that enrich entire communities by teaching marketable skills that empower students of all faiths to attain success and live with dignity.
Alyssa Giterman, Director, Ohio Region
ORT has been an integral part of Ohio's philanthropic landscape for over 60 years, establishing chapters in Cleveland, Akron, Canton, Youngstown, Toledo and Columbus.  Today, the Ohio Region of ORT America has combined the efforts and initiatives of the men and women in the state to become a united voice in Jewish philanthropy in support of ORT schools and programs throughout the world.
The Ohio Region raises funds to support the World ORT global network of schools and programs with its annual campaign and annual fundraising events: Jurisprudence Dinner and Annual ORT Brunch.
Ohio is the proud home of ORT America's past president Larry Kadis, current Chair of the Executive Committee Michael Perlmuter, and National Board members, Mark Adler, Suellen Kadis, and Lewis Zipkin.
Other Information:
Todd E. Gurney, President