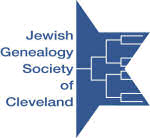 Jewish Genealogy Society of Cleveland (JGS)
To further the pursuit of all aspects of Jewish genealogy by assisting others to find their ancestors and living relatives and to promote an appreciation and understanding of the Jewish culture and community of our forebears.
Deborah Katz, President
Organized in 1981, the Jewish Genealogy Society of Cleveland is open and available to anyone who has an interest in Jewish genealogy.
The objective of the Jewish Genealogy Society of Cleveland, Inc. is to foster Jewish family history and genealogical research.
The Society educates the public and disseminates information on Jewish records, sources, techniques, archives and libraries, and has done so since its inception in 1982.
The Society maintains its own research library and encourages the collection of genealogical material and family histories.
The Society also assists out-of-town researchers to locate their Cleveland roots. Our research committee members guide researchers to institutions, web sites, and other resources to find genealogical information.
Check our website for further information and our calendar of speakers.
Pending further notice, we have suspended our regular in-person meetings and replaced them with virtual meetings and programs each month.Our monthly programs are typically free and open to the public, subject to any constraints of the virtual platform we are utilizing. To request a reservation for a specific program, send an email to rsvp@jgscleveland.org with name, full mailing address and email address.