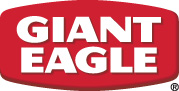 Giant Eagle
Giant Eagle carries a vast array of kosher and non-kosher groceries and features a full-service pharmacy, bakery, dry cleaners, deli, and cheese shop. Only the finest quality products are awarded the Giant Eagle® brand label.
At Giant Eagle® before we put our name on any product, it undergoes extensive consumer research and development to ensure national brand quality. In the past year alone, we consumer tested nearly 10,000 products to determine the quality and appeal of ours versus leading national brands.
Our competitive line of more than 5,000 Giant Eagle® products covers nearly every category in our stores – dairy, breads, frozen food, soda, cereals, health & beauty, paper products, diapers, snacks, pet food and more. Just look for the Giant Eagle® "shield" as your guarantee of exceptional quality and affordable pricing.
Because smart shopping means purchasing the very best quality for the very best price.
For a list of Giant Eagle locations and store hours in the Cleveland area please visit our website.