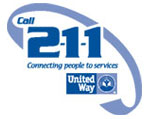 2-1-1 Call For Help
2-1-1 is a free community service sponsored by the United Way of Cleveland where you can use to get information about social, health and government resources 24 hours a day, every day.
2-1-1's community resource database is a curated and continously updated library of over 18,000 government, health and social service programs. It includes information about who is eligible for services, any required I.D. or documents, details about any fees, and a description of the steps someone must take to receive help. The database is updated and maintained on a daily basis by six full-time staff whose sole duty is to work one-on-one with the agencies listed to make sure the information provided is as current and accurate as possible.
When a call is placed to 211 you will be connected to a professional Information Specialist who will find out what the caller needs and then search for programs that may be able to help. We try to give at least three resources (names of agencies and phone numbers) for each need.
Information provided through 2-1-1 includes such services as:
Basic needs such as food, clothing, housing and utility assistance.
Health and mental health resources such as Medicaid, Medicare, community clinics, support groups and counseling
Work support such as job training and education programs.
Supports for older adults and persons with disabilities such as adult day care, Meals on Wheels, home health care and transportation.
Youth and family services such as Head Start, recreation programs, parenting help, child support and custody, mentoring and tutoring …and much more, including agencies that accept your donated items
There is no charge for this service.